News
If you are a member of the media in need of a legal source for your next piece, contact Matt Chandler, Director of Marketing: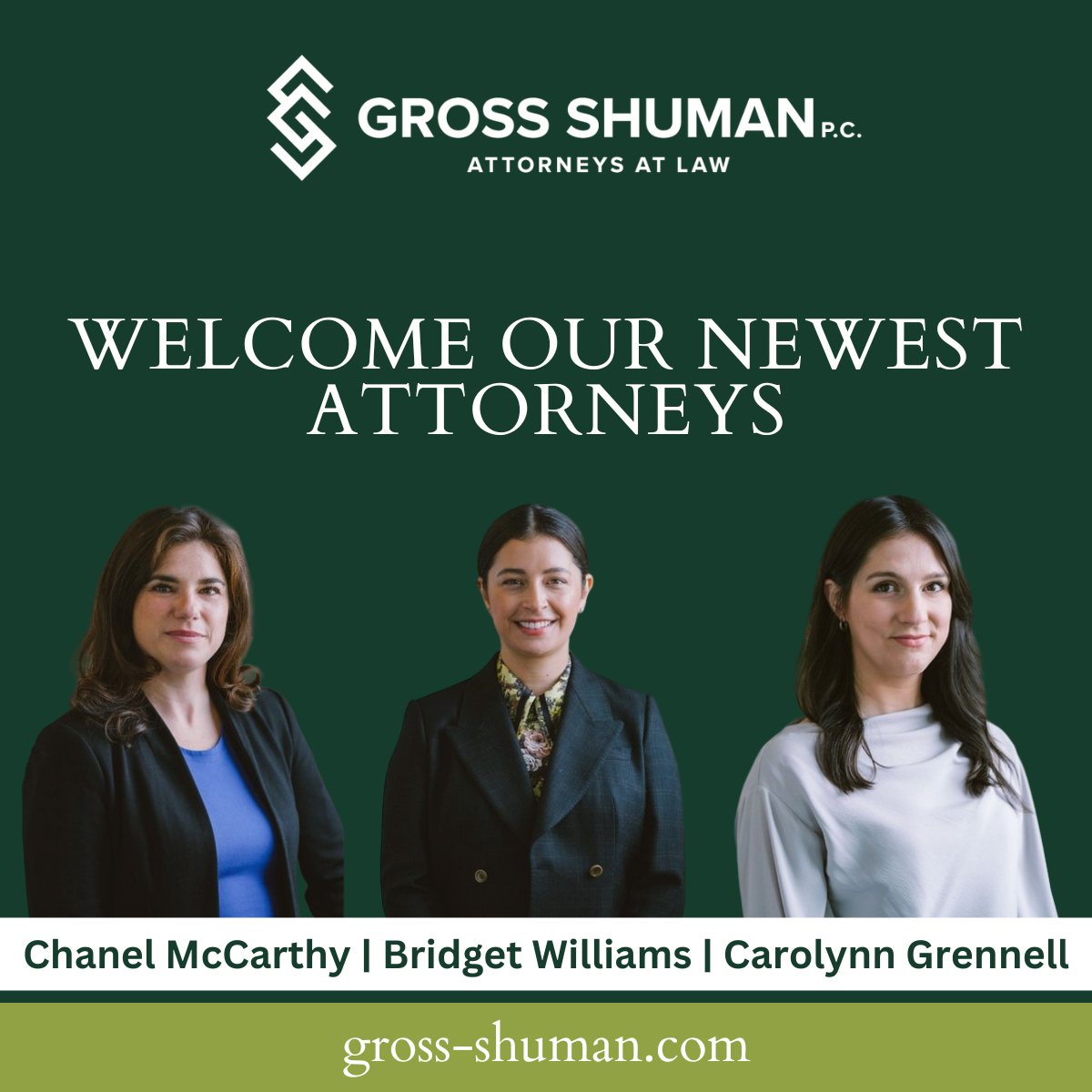 Thu, Jun 29th 2023
Law firm joins forces with McCarthy Williams PLLC
Fri, Apr 14th 2023
Mr. Burke, on behalf of Gross Shuman, represents one of two student athletes removed from Starpoint High School over alleged misconduct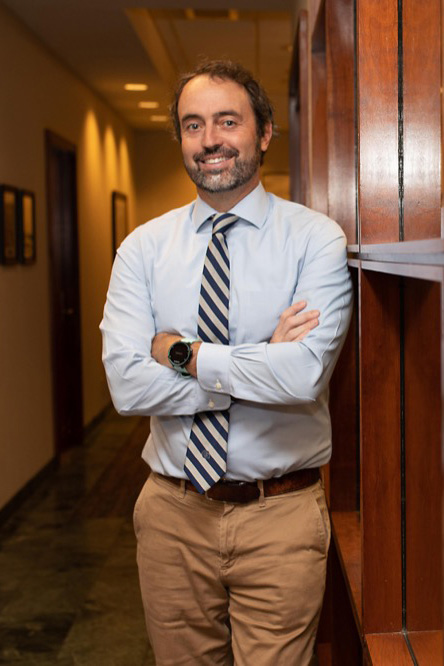 Mon, Mar 20th 2023
Interview focused on a significant court ruling that could impact employers nationwide.

Wed, Mar 15th 2023
Buffalo law firm was also recognized as a Best Place to Work in 2021.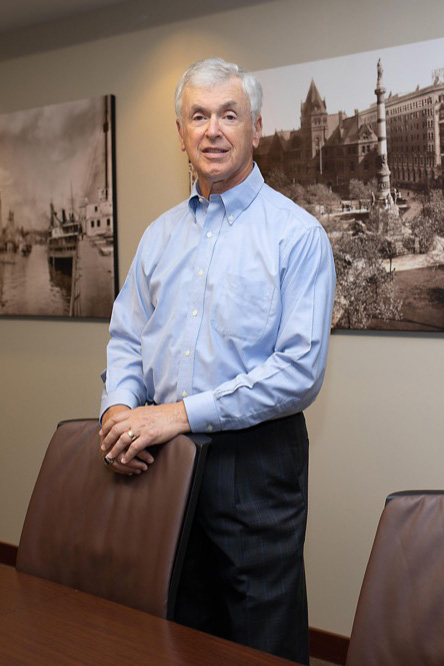 Thu, Sep 29th 2022
Attorney David Alexander was the featured guest on the latest edition of "The Mayor of Money" podcast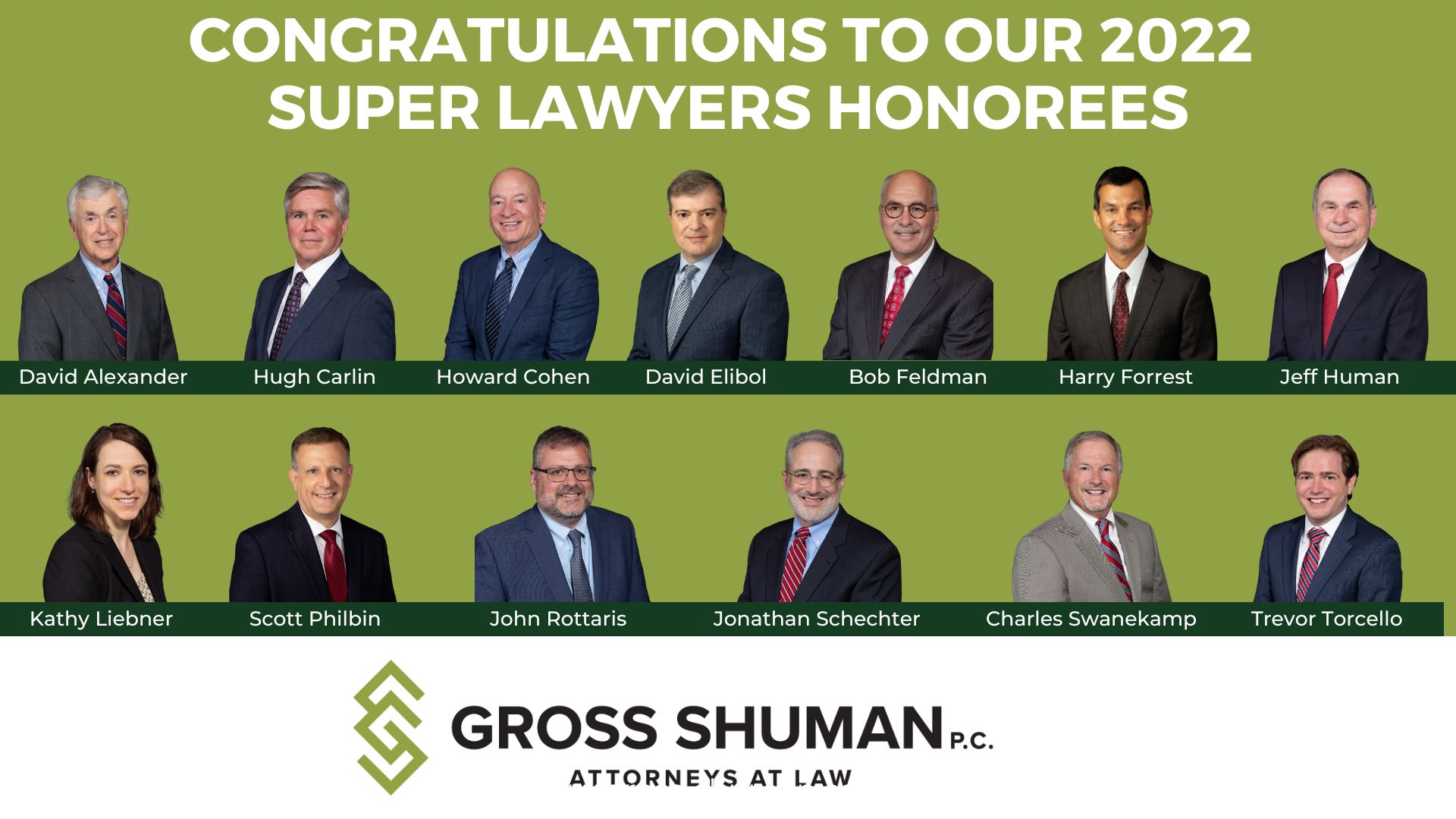 Tue, Aug 23rd 2022
13 attorneys earn" Super Lawyers" recognition; three named to "Rising Stars" list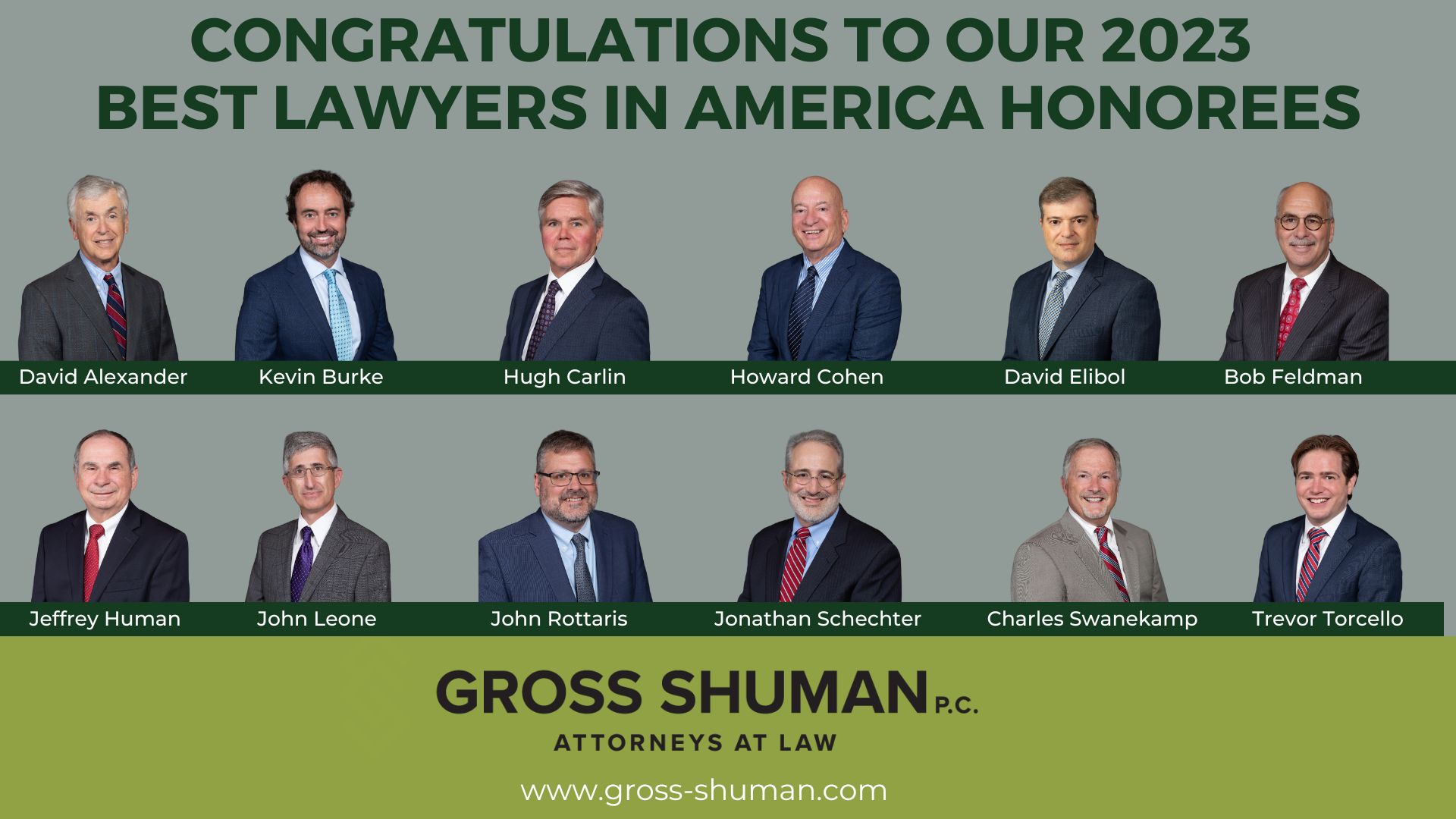 Thu, Aug 18th 2022
Twelve attorneys named to "Best Lawyers" list; Three earn "Ones to Watch" distinction

Tue, Jun 7th 2022
June 22 breakfast seminar to focus on latest issues facing employers, leadership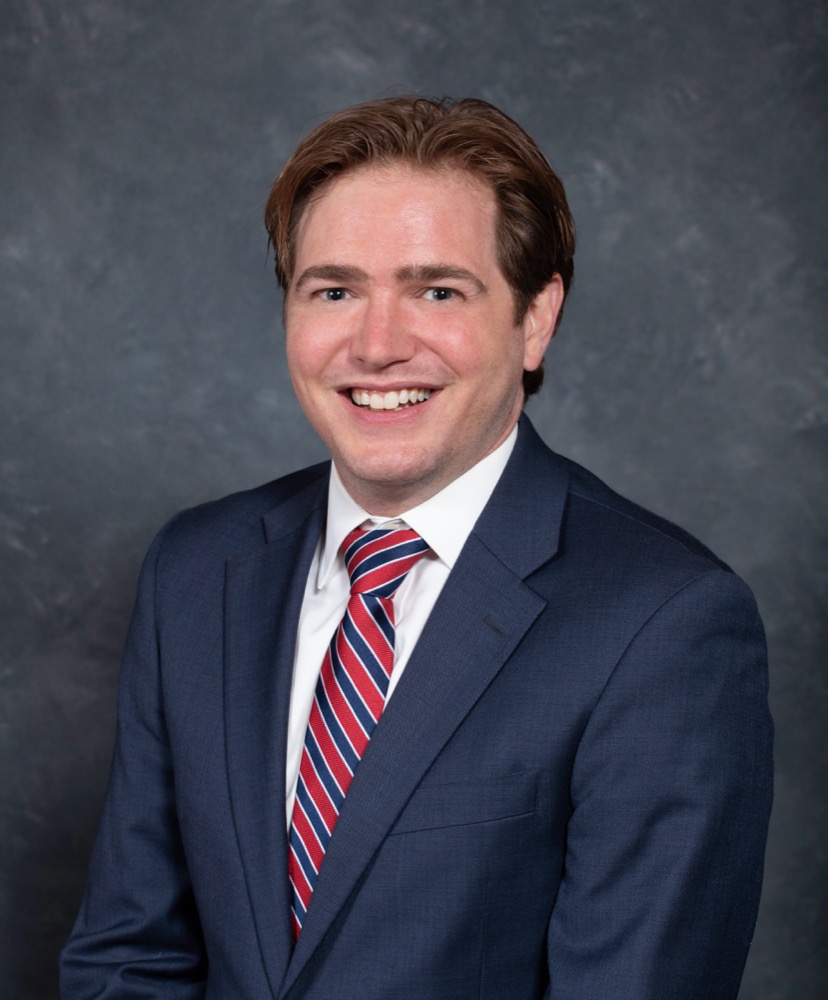 Wed, Apr 6th 2022
Torcello has served on the board of directors of the organization since 2020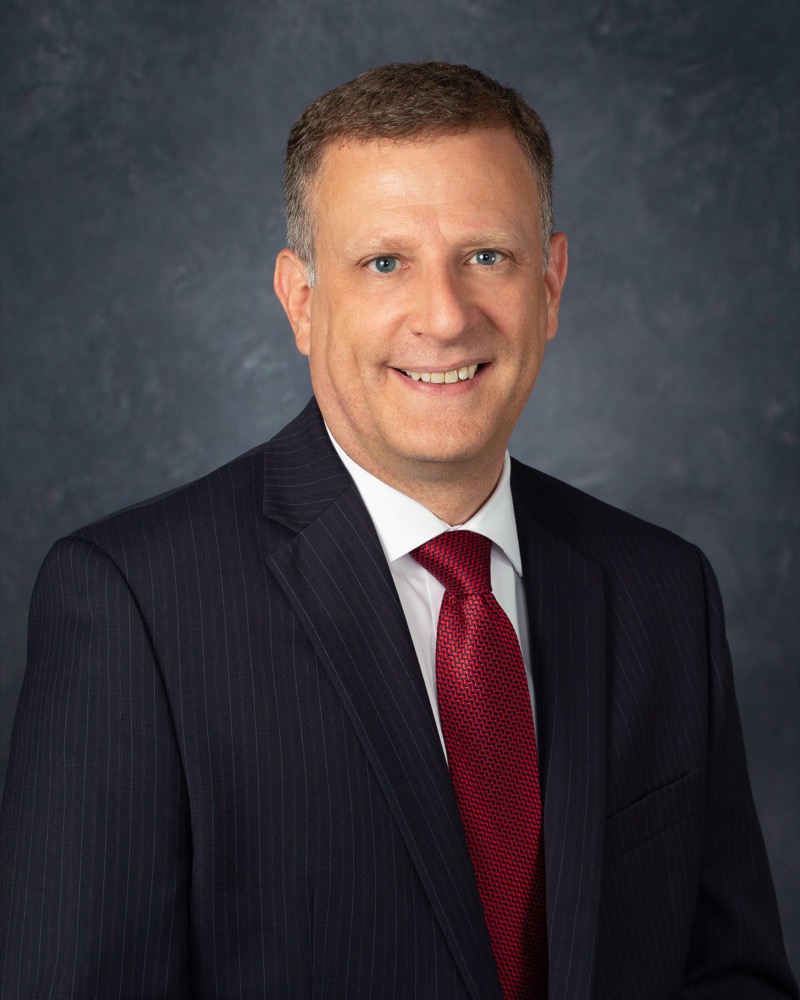 Mon, Jan 24th 2022
Mr. Philbin joined Gross Shuman in July 2021. He is a litigation attorney who brought more than 20 years of experience to the firm.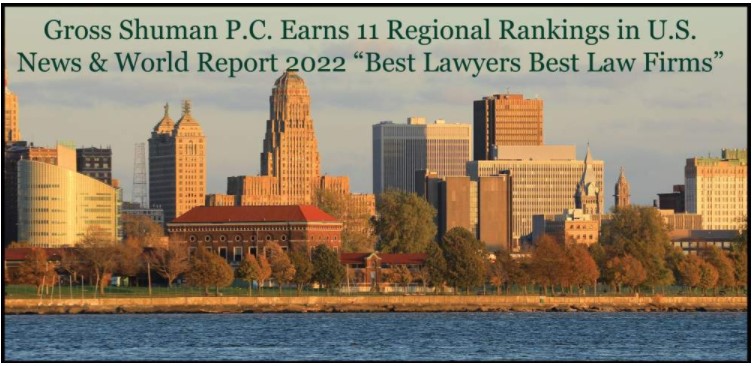 Thu, Nov 4th 2021
U.S. News & World Report and Best Lawyers, for the 12th consecutive year, announced the U.S. News - Best Lawyers Best Law Firms rankings. Gross Shuman, P.C. has been ranked in the 2022 U.S. News - Best Lawyers "Best Law Firms" list regionally in 11 practice areas.

Fri, Aug 20th 2021
Gross Shuman P.C. announced today that 12 of its attorneys have been named to the 2021 Upstate New York Super Lawyers list and four were named to the 2021 Upstate New York Rising Stars list.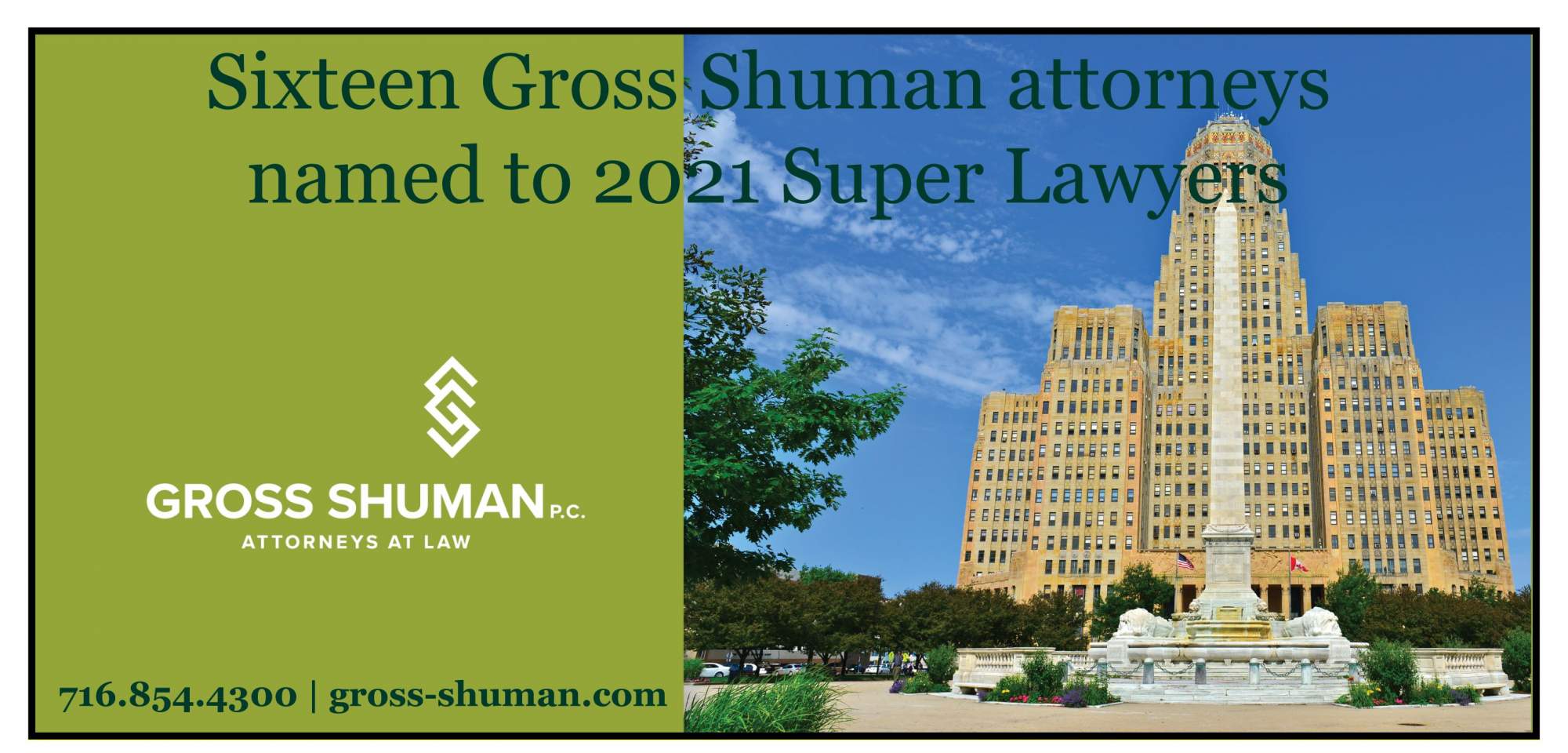 Fri, Aug 20th 2021
Twelve attorneys named to 2021 Super Lawyers list; four named to Rising Stars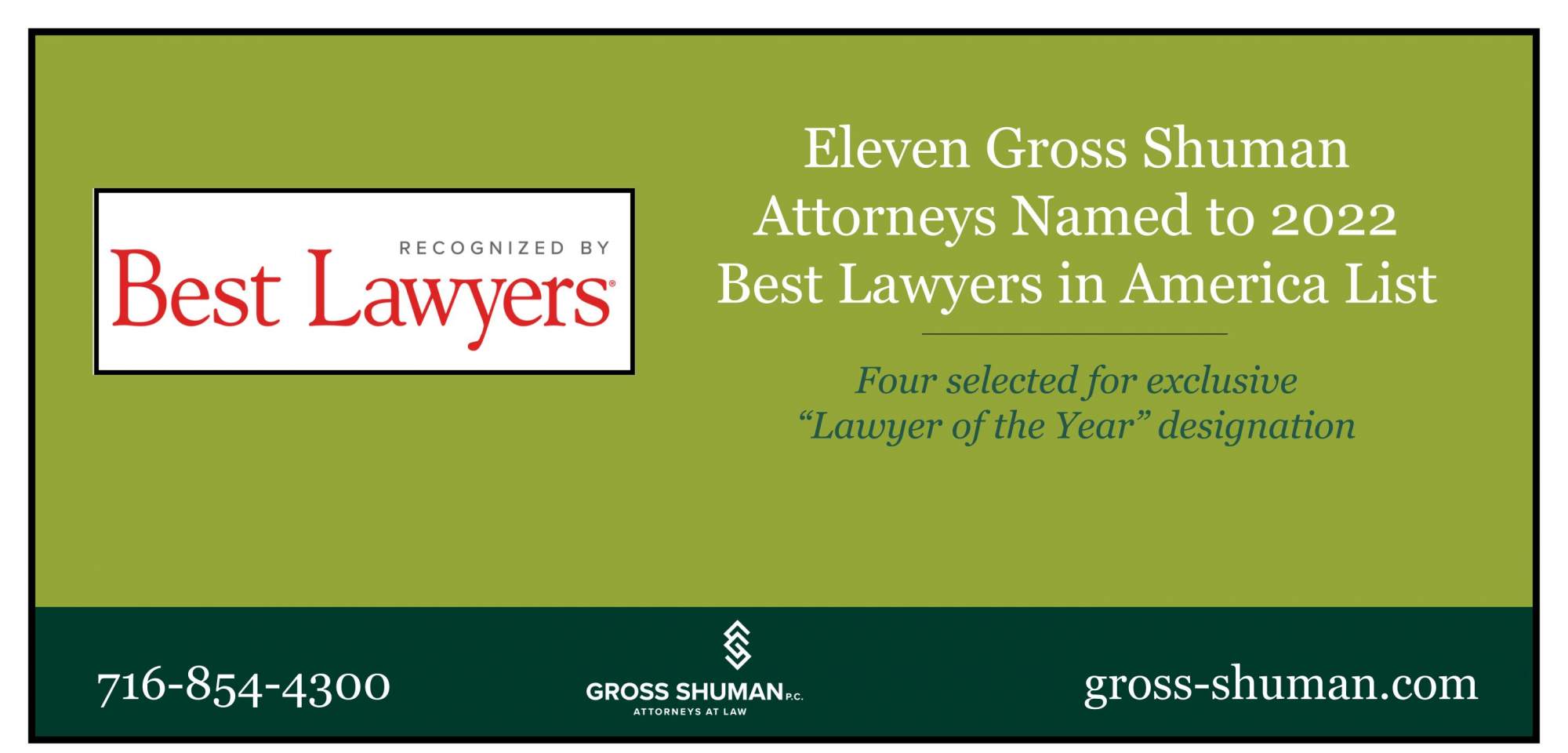 Thu, Aug 19th 2021
Gross Shuman, P.C. is pleased to announce that 11 of our attorneys have been included in the 2022 Edition of The Best Lawyers in America.

Tue, Aug 10th 2021
Charles C. Swanekamp joined Gross Shuman P.C. as an attorney in its Buffalo office. Mr. Swanekamp focuses his practice in the areas of business law, commercial litigation, and the defense of accountants and attorneys in disciplinary and malpractice matters.

Tue, Aug 10th 2021
Scott M. Philbin joined Gross Shuman P.C. as a litigation attorney. He handles a broad array of business and commercial matters at the trial and appellate levels in both state and federal court.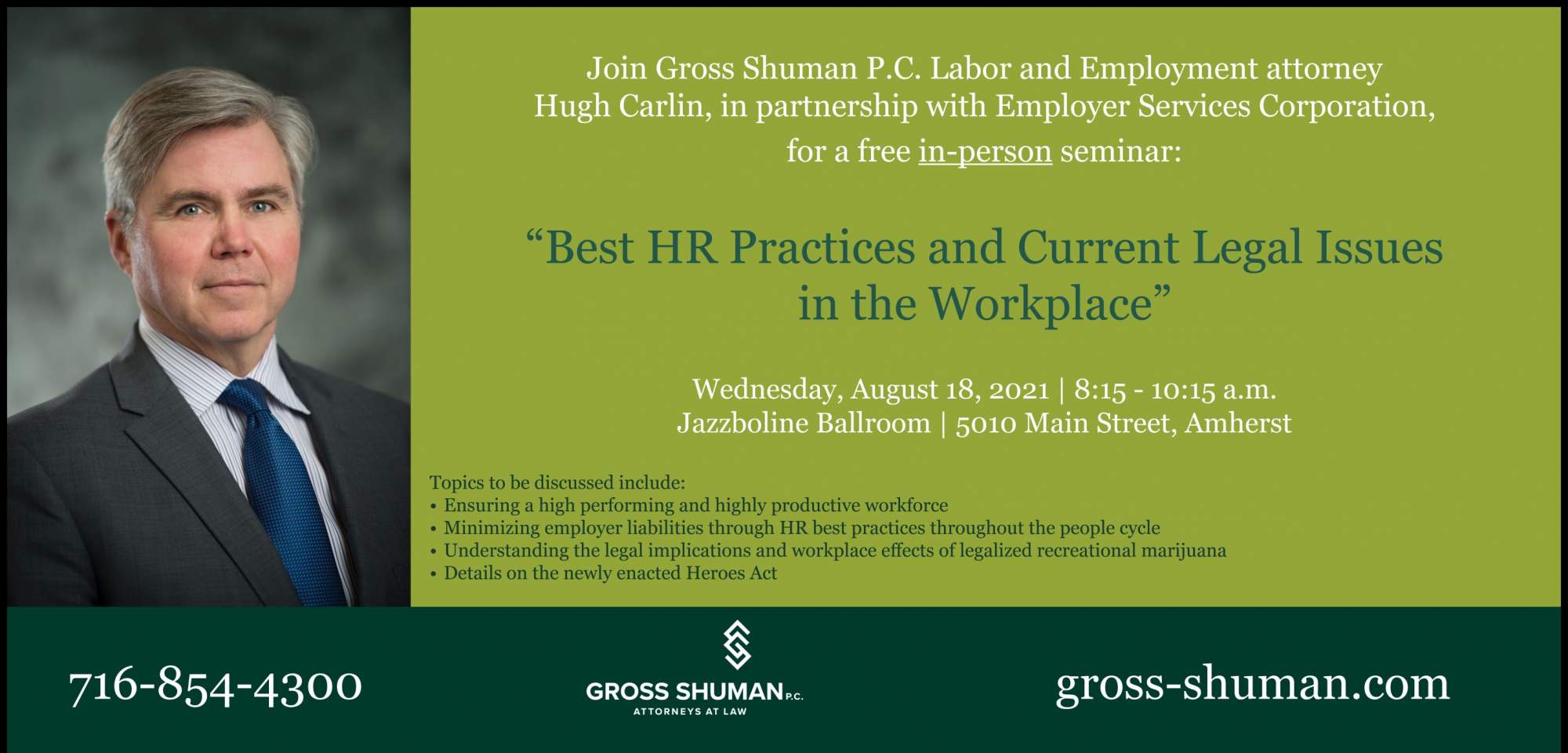 Mon, Aug 2nd 2021
Gross Shuman Labor and Employment attorney Hugh Carlin is partnering with Employer Services Corporation to host a breakfast seminar for employers and business leaders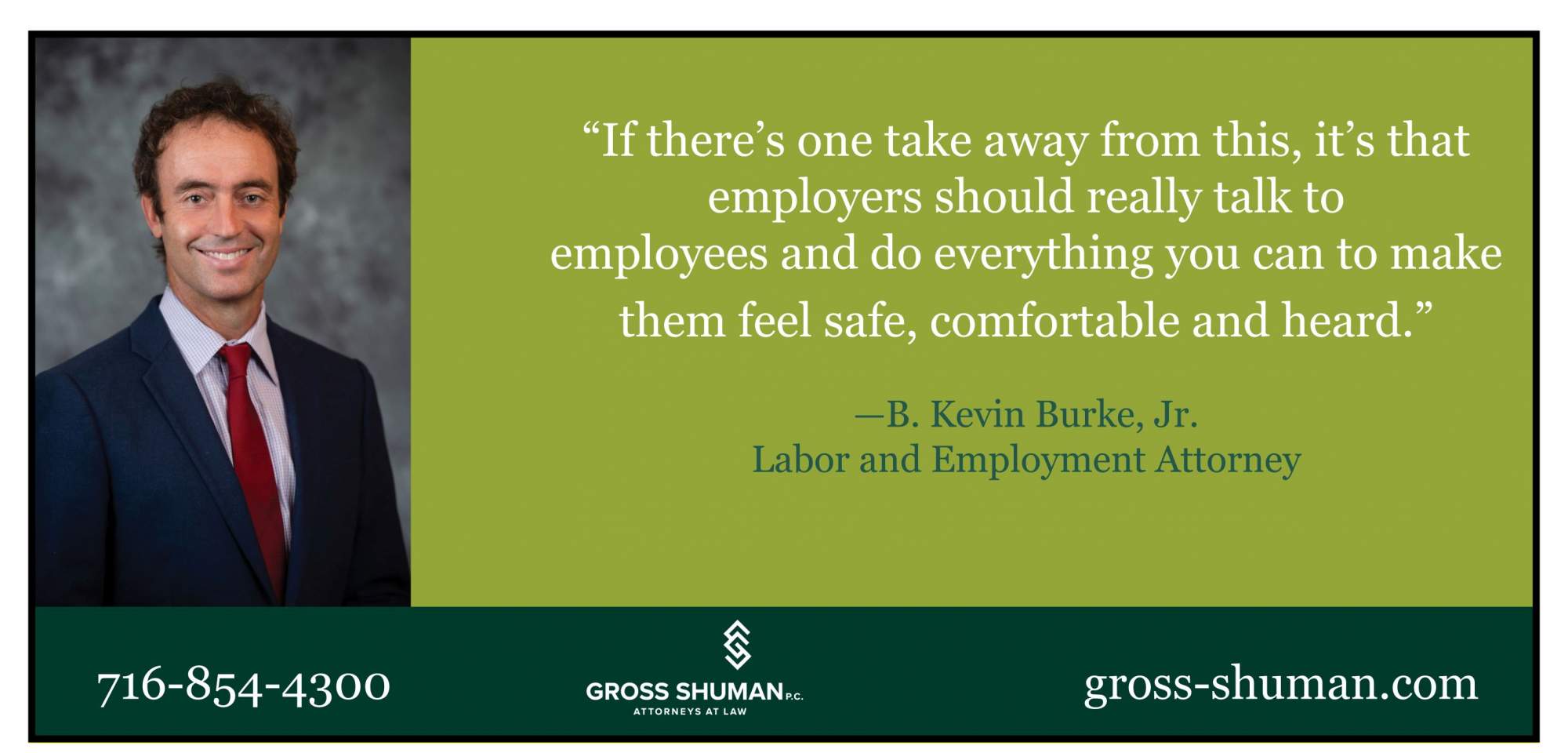 Fri, Jul 30th 2021
Gross Shuman P.C. Labor and Employment Attorney B. Kevin Burke Jr. was interviewed this week for an article in Buffalo Business First exploring the impact a potential mask mandate could have on employers.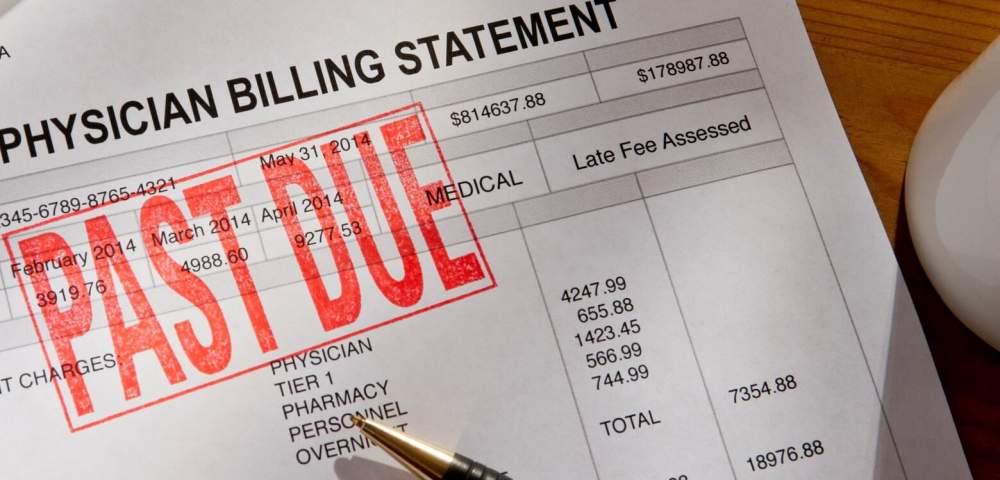 Tue, Jul 20th 2021
Our labor and employment team represents employers large and small in a wide variety of industries. Whether it is a family-owned small business or a large, multi-national corporation, health insurance is an issue we spend a lot of time working with our clients on.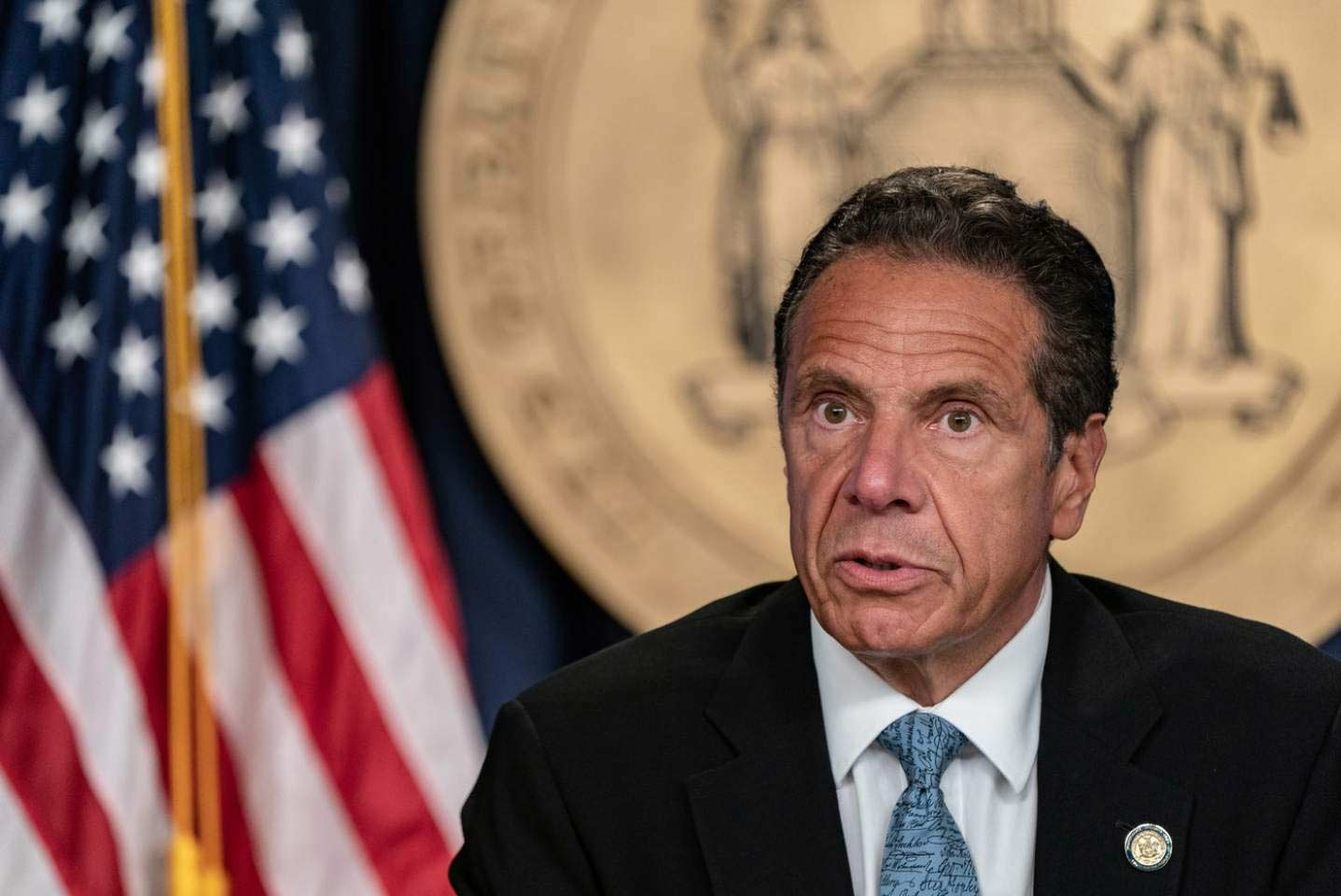 Thu, Jun 24th 2021
The decision to end the State of Emergency in New York means changes for businesses and individuals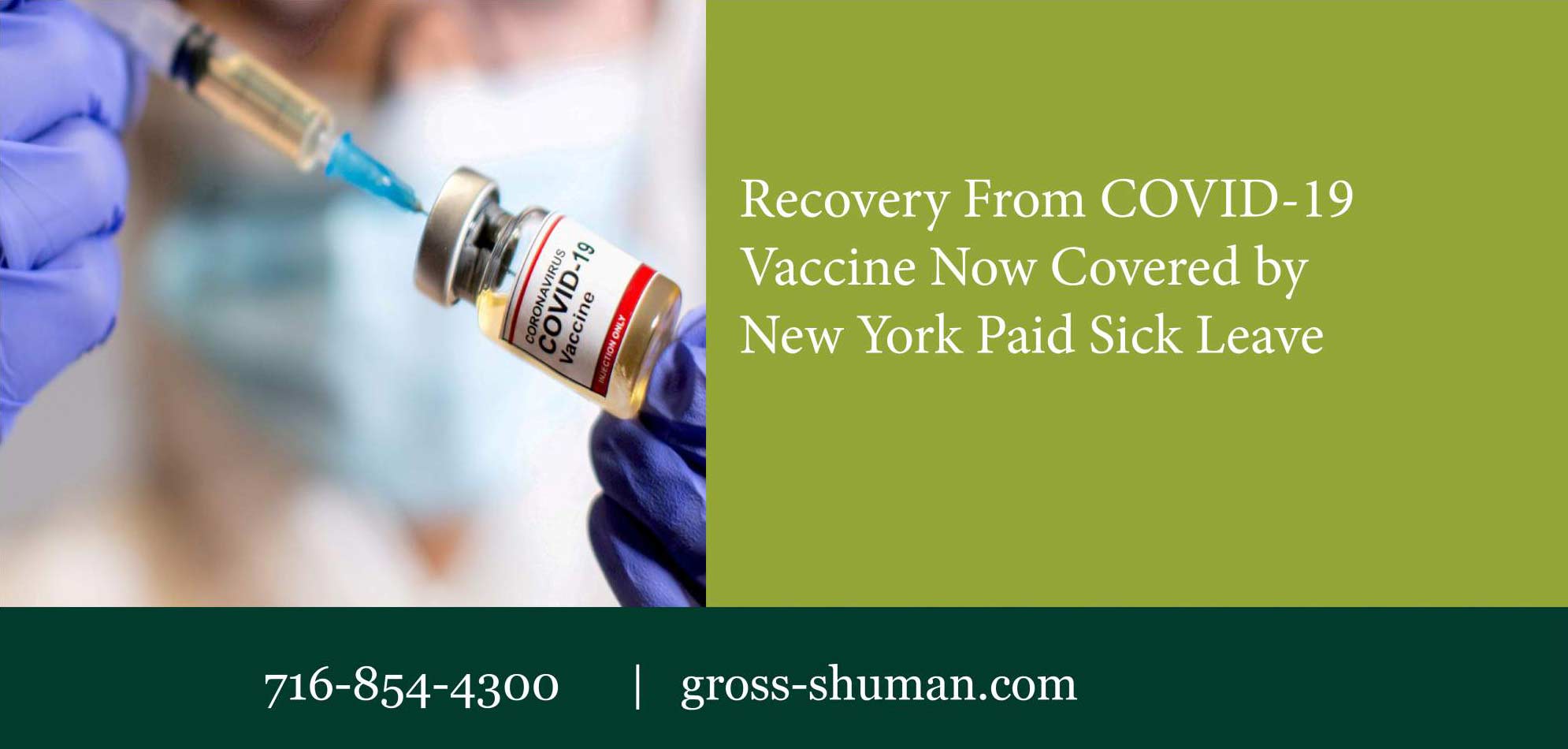 Thu, May 27th 2021
Thursday morning, New York Governor Andrew Cuomo announced new guidance is forthcoming from the New York State Department of Labor  (NYSDOL) to update the policies governing paid sick leave for individuals recovering from receiving the COVID-19 vaccine.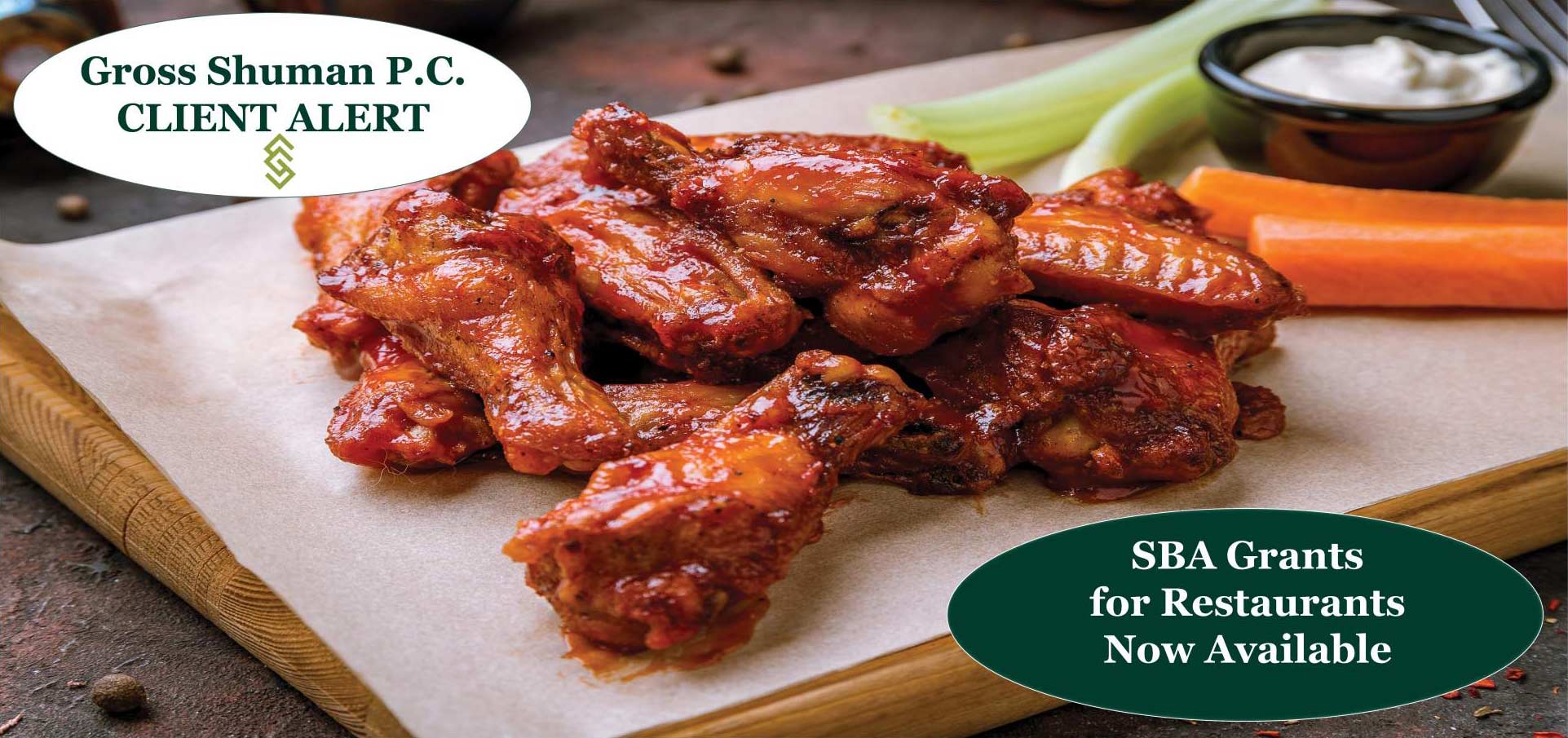 Fri, Apr 30th 2021
The restaurant industry has been hard hit by the COVID-19 pandemic. From full closures, to dining restrictions and limited hours, the pandemic has decimated the industry, especially here in Western New York.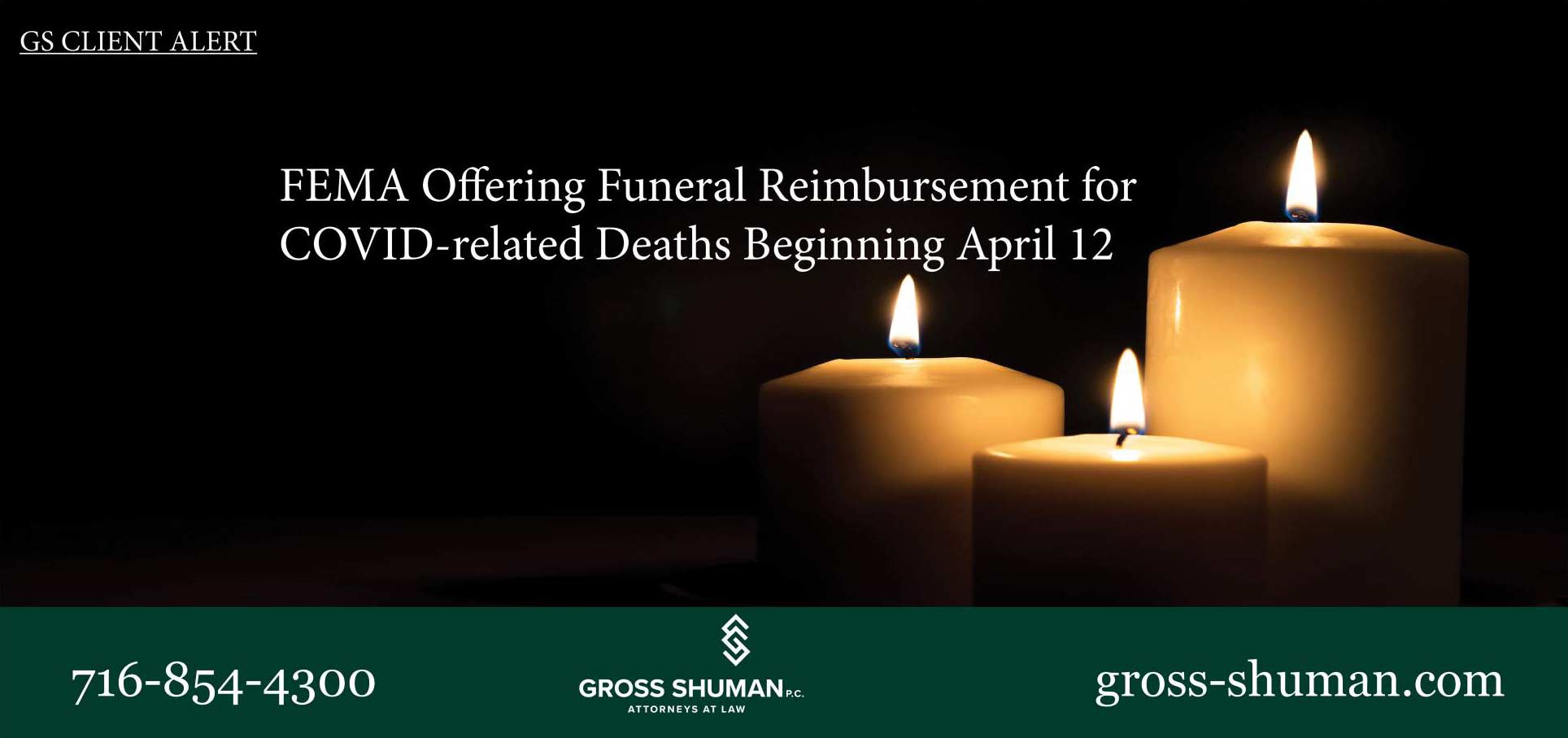 Mon, Apr 5th 2021
The Federal Emergency Management Agency (FEMA) announced it will soon be offering reimbursement for funeral expenses related to an individual whose death is COVID-related.

Fri, Apr 2nd 2021
In workplaces that have made vaccinations mandatory, employers are justified when firing an employee who refuses to be vaccinated if they don't qualify for an exemption, said B. Kevin Burke, attorney at Gross Shuman PC.

Fri, Apr 2nd 2021
Thanks to its employees, Gross Shuman P.C. is one of our 2021 Best Places to work.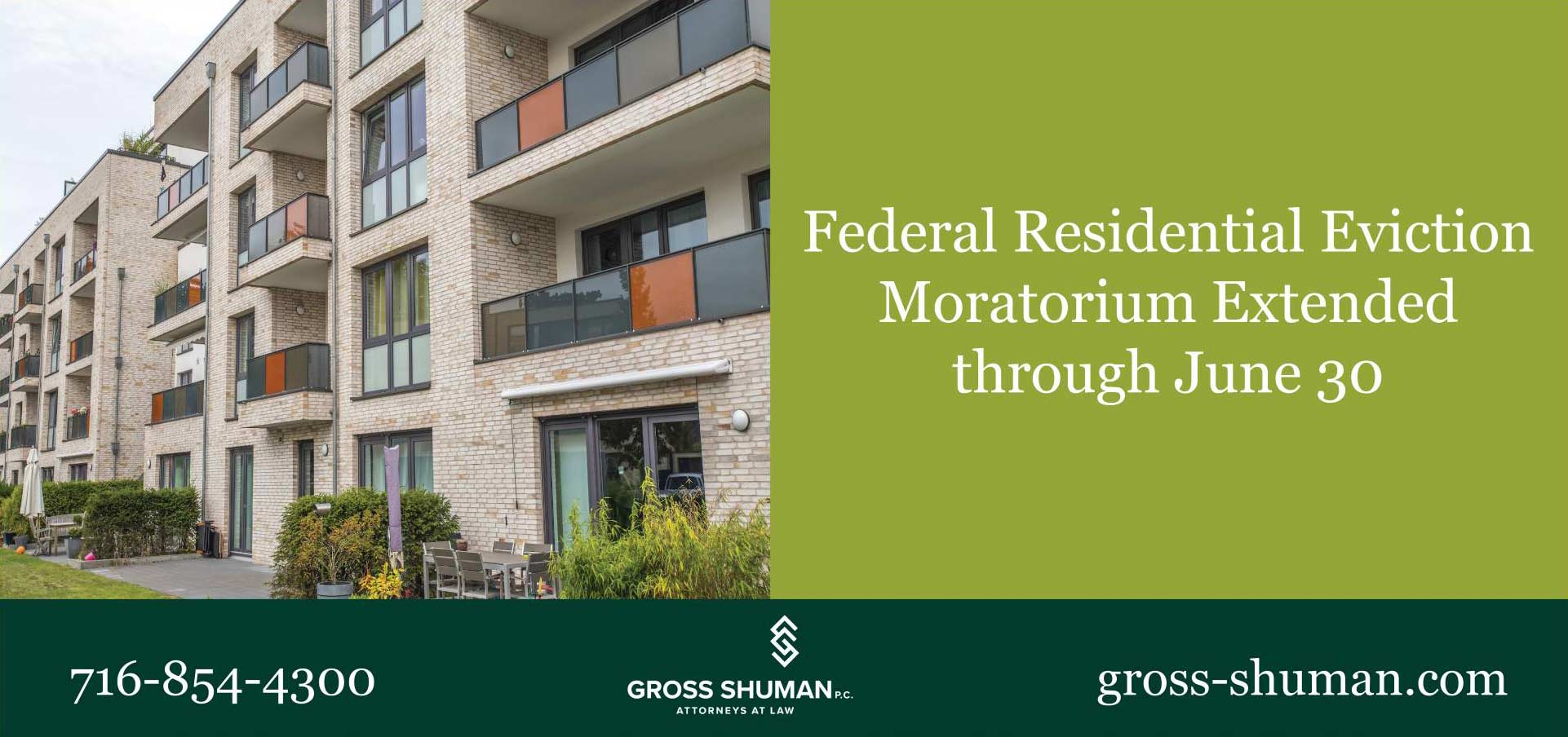 Mon, Mar 29th 2021
The protection, which was set to expire on March 31, has been extended through June 30, 2021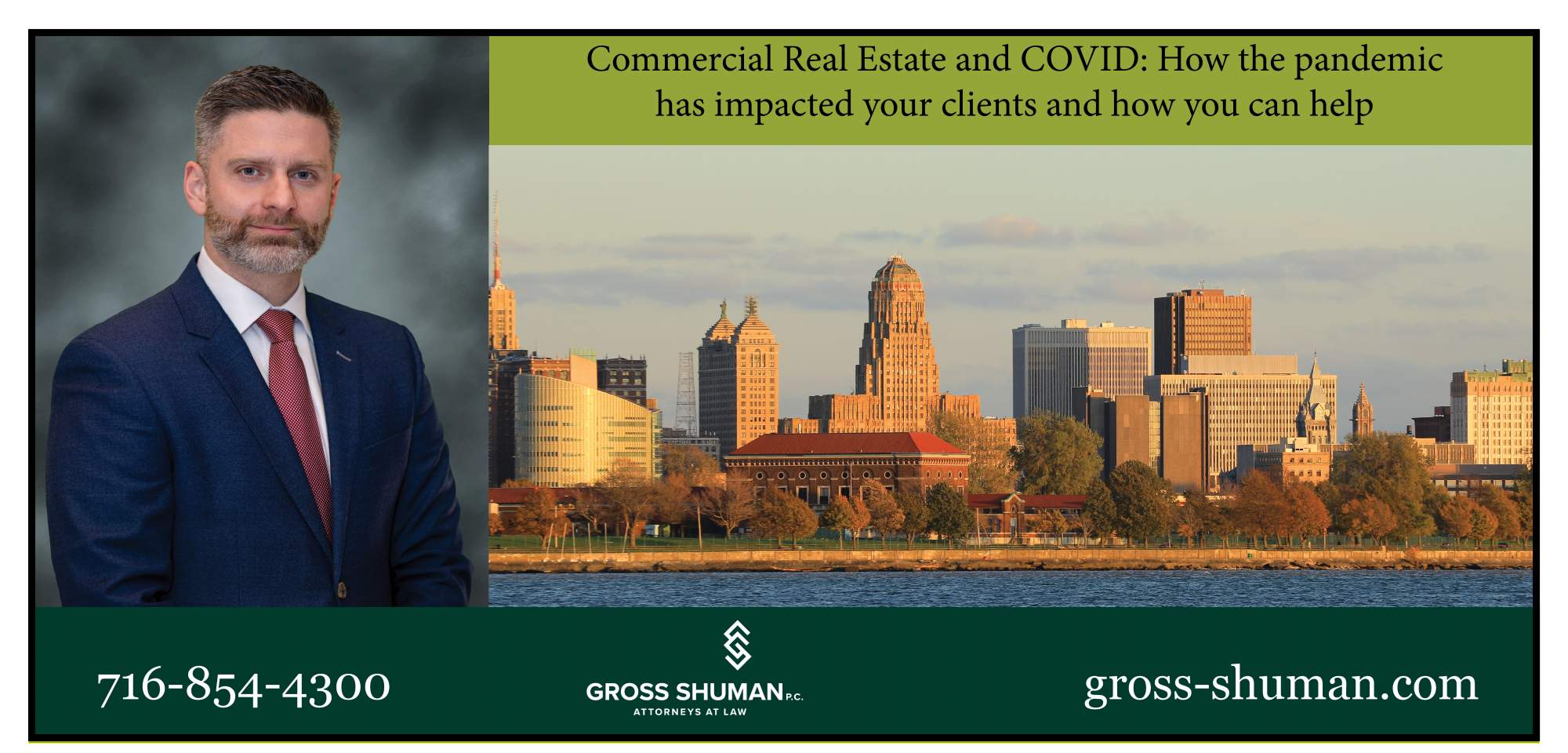 Fri, Mar 26th 2021
On March 24, Gross Shuman P.C. attorney Nick Ingrassia hosted a CLE on Commercial Real Estate in the wake of the COVID-19 pandemic.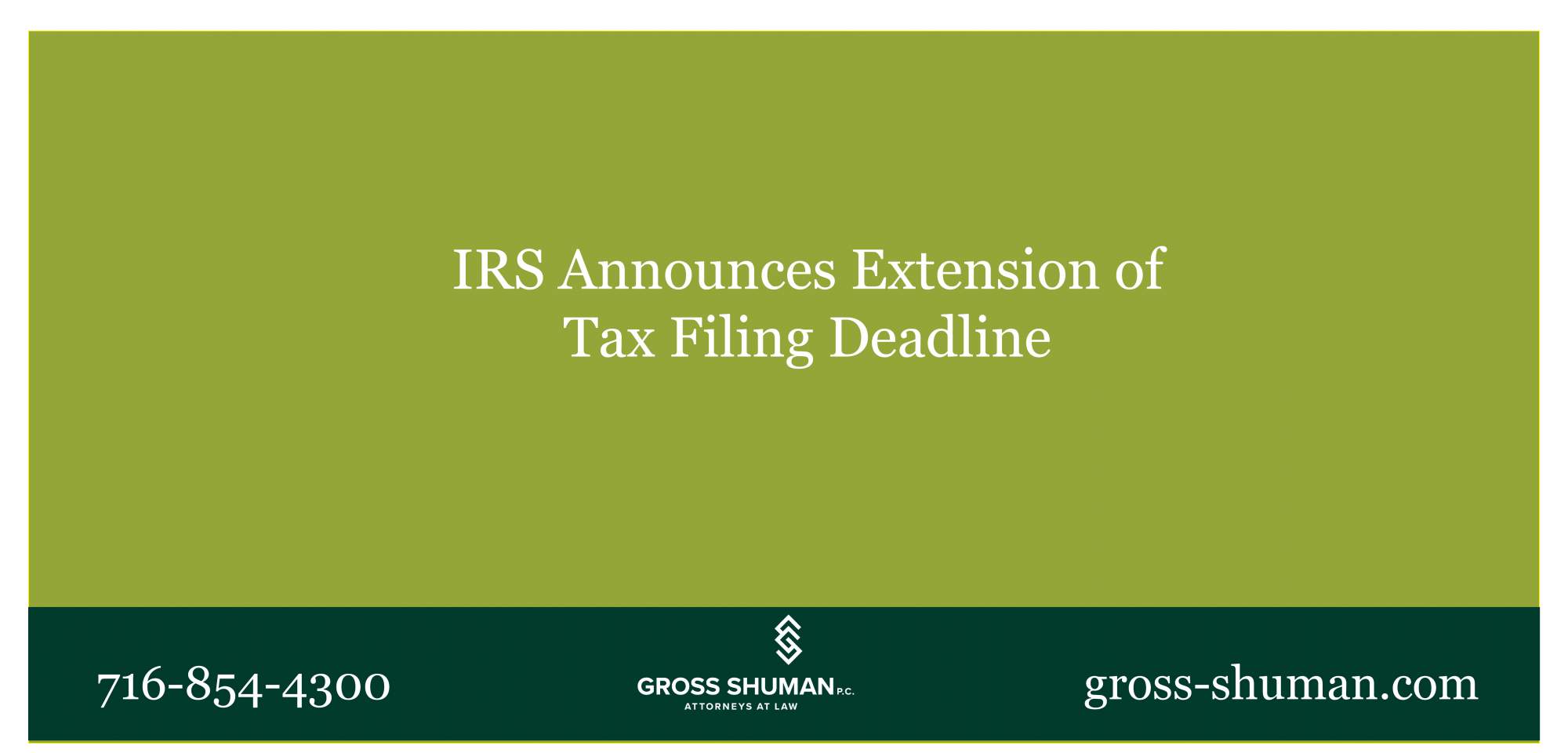 Thu, Mar 18th 2021
The IRS has extended the filing deadline until May 17, 2021, but their are nuances and rules you'll want to understand and follow to make sure you avoid paying penalties and interest on overdue taxes

Mon, Mar 1st 2021
Katherine Liebner is an attorney with Gross Shuman specializing in estate planning and estate administration. She sees the fal-out after someone dies without plans in place. The best option, she said, is to address things before any crisis.

Fri, Jan 29th 2021
Trevor Torcello, partner at Gross Shuman PC, helps employers structure policies and calls from companies have been more frequent in the last year.

Thu, Dec 31st 2020
Leone said the changes are a positive move for those assisting elderly family members with financial affairs.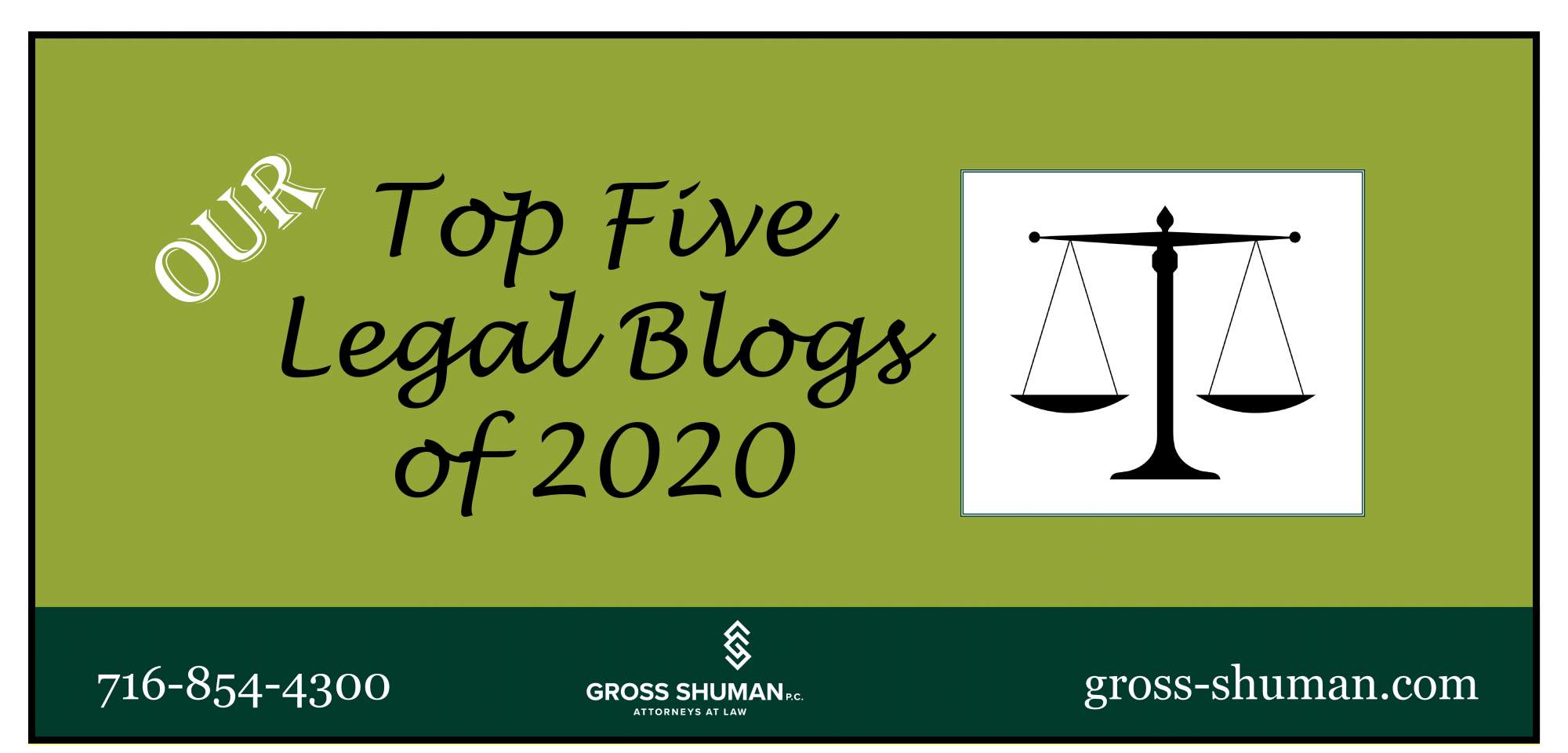 Thu, Dec 31st 2020
As the year comes to a close, it feels fitting to use this space to reflect back on the most read legal blogs our attorneys wrote in 2020.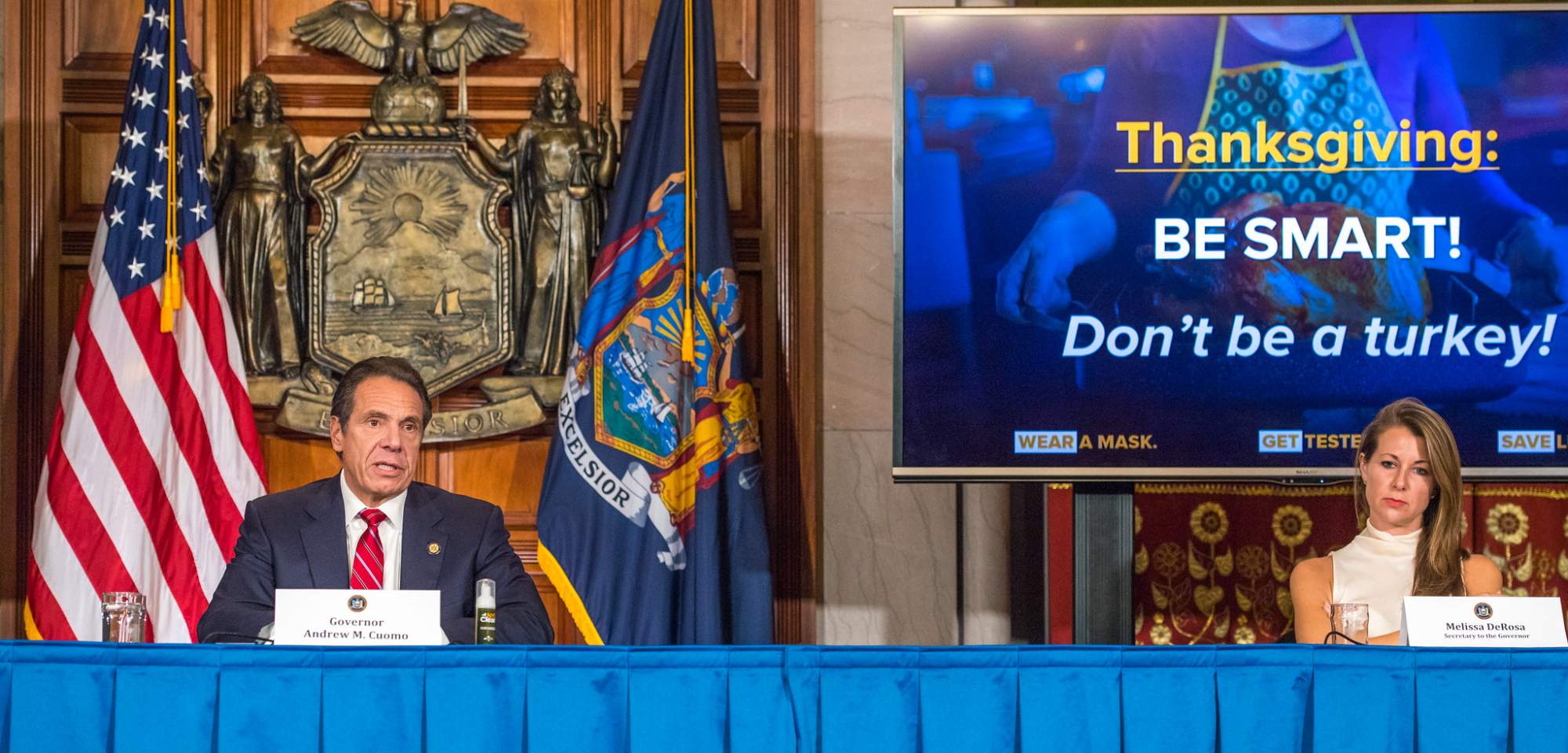 Thu, Nov 19th 2020
The COVID-19 rules just got tougher for business owners, but compliance is key to avoiding harsh penalties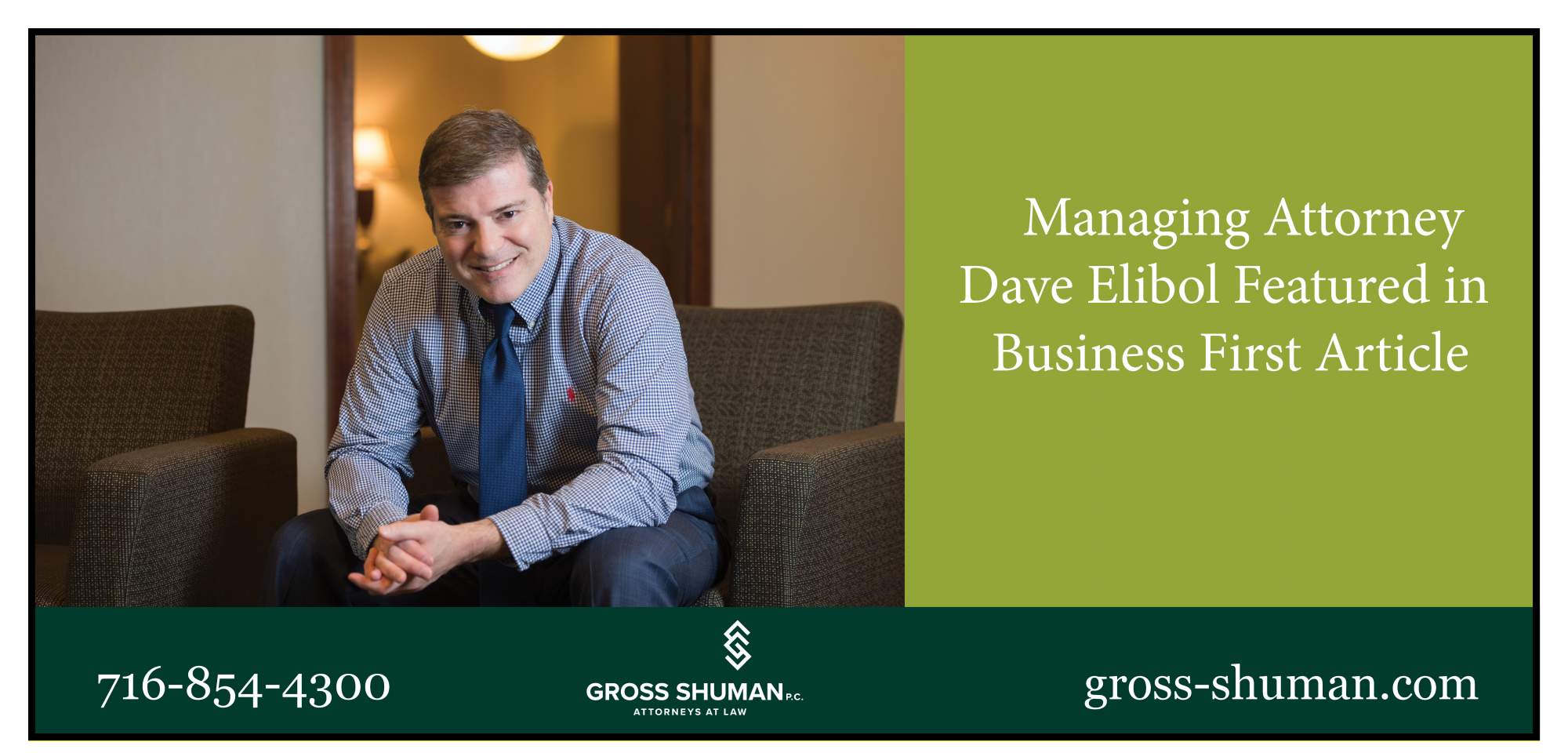 Thu, Nov 12th 2020
Gross Shuman PC Managing Attorney Dave Elibol was interviewed recently by Business First for a series exploring how law firm leaders have managed their operations in the midst of the COVID-19 global pandemic.