Featured News - Current News - Archived News - News Categories
Gross Shuman Expands its Practice
by Matt Chandler
Thu, Jun 29th 2023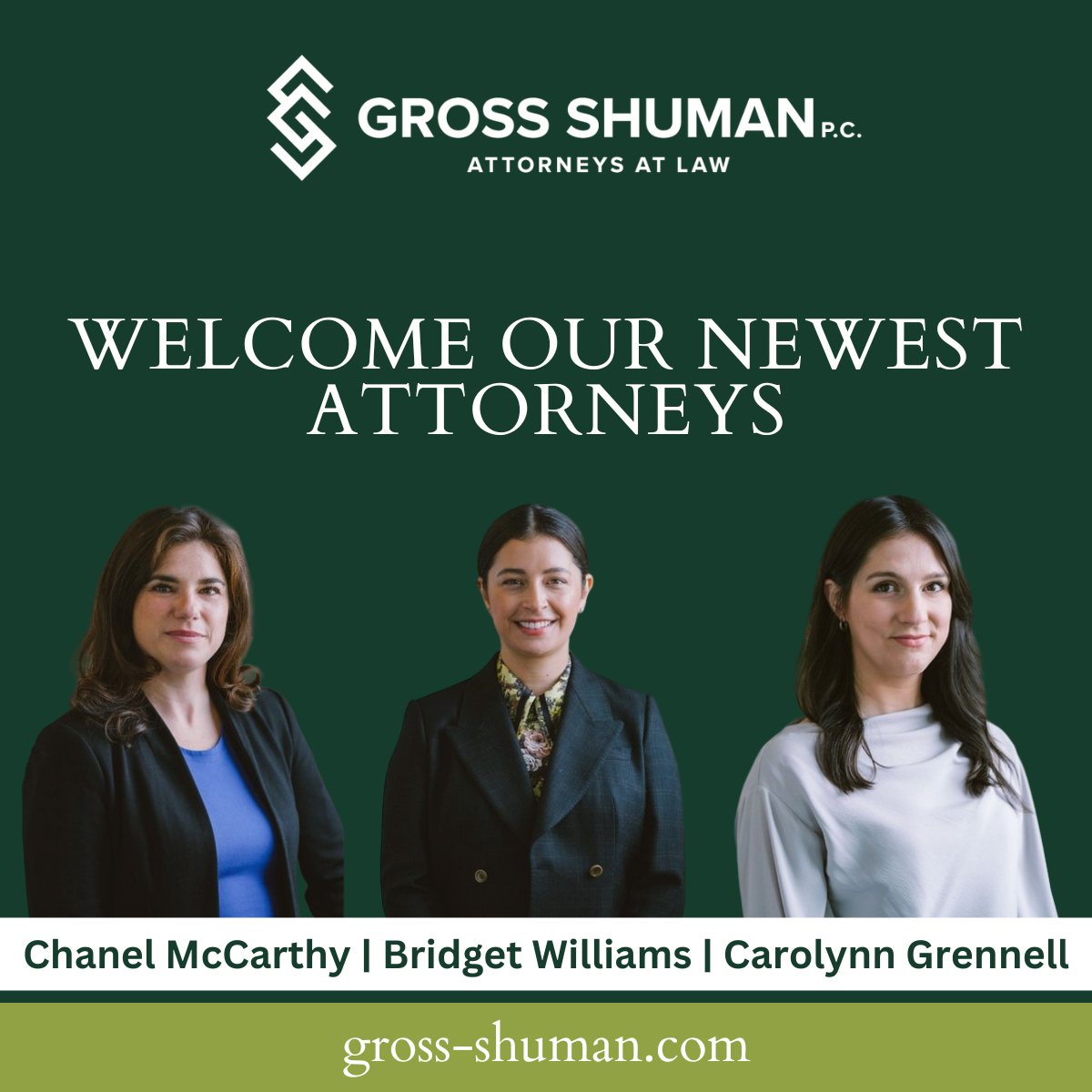 On July 1, the law firm of McCarthy Williams PLLC will join Gross Shuman PC in a strategic expansion aimed at continuing to offer the best legal guidance and service to our clients. In addition to adding three experienced and talented attorneys to our team, this move also adds depth in specific practice areas that will allow us to better serve our existing clients and expand our client reach.
McCarthy Williams, formed by partners Chanel McCarthy and Bridget Williams, will transition to practice under the Gross Shuman name. The partnership expands Gross Shuman's estate planning and corporate practice and adds experience in hospitality, construction, and transactional work.
The attorneys from McCarthy Williams that have joined Gross Shuman are:
Chanel McCarthy
Ms. McCarthy will be a shareholder in the firm and member of the management committee. She brings more than a decade of business law experience to our team, with a focus that includes lease agreements and contract negotiations to operations and employment matters. Chanel has experience in corporate law including issues related to the hospitality industry. Her depth of experience also includes handling trusts, estates, and other matters before the Surrogate's Court.
Bridget Williams
Ms. Williams joins us in an of counsel capacity. Her background includes more than a decade of experience managing a family business prior to becoming an attorney. Her focus areas include family business and succession planning as well as trust and estate planning.
Carolynn Grennell
Ms. Grennell joins Gross Shuman as an associate. She focuses her practice in the areas of corporate and small business needs including labor and employment issues, licensing and compliance, and litigation. She also practices in estate planning and has a special interest in private adoptions.
"We are thrilled to have the attorneys of McCarthy Williams join us," Gross Shuman Managing Attorney David Elibol said. "They bring a wealth of experience to our team that will allow us to expand our reach with existing clients, and continue the strategic growth of our firm."
The McCarthy Williams office, located in a restored rowhouse on a historic block of Delaware Avenue, will operate as a satellite office of Gross Shuman.
"Bridget and I are delighted with and proud of our next step, and we're honored to join forces with this well-respected and experienced group of attorneys," McCarthy said. "We look forward to serving our clients, current and prospective, with the expanded capacity and additional resources Gross Shuman offers."