Featured News - Current News - Archived News - News Categories
Federal Residential Eviction Moratorium Extended
Mon, Mar 29th 2021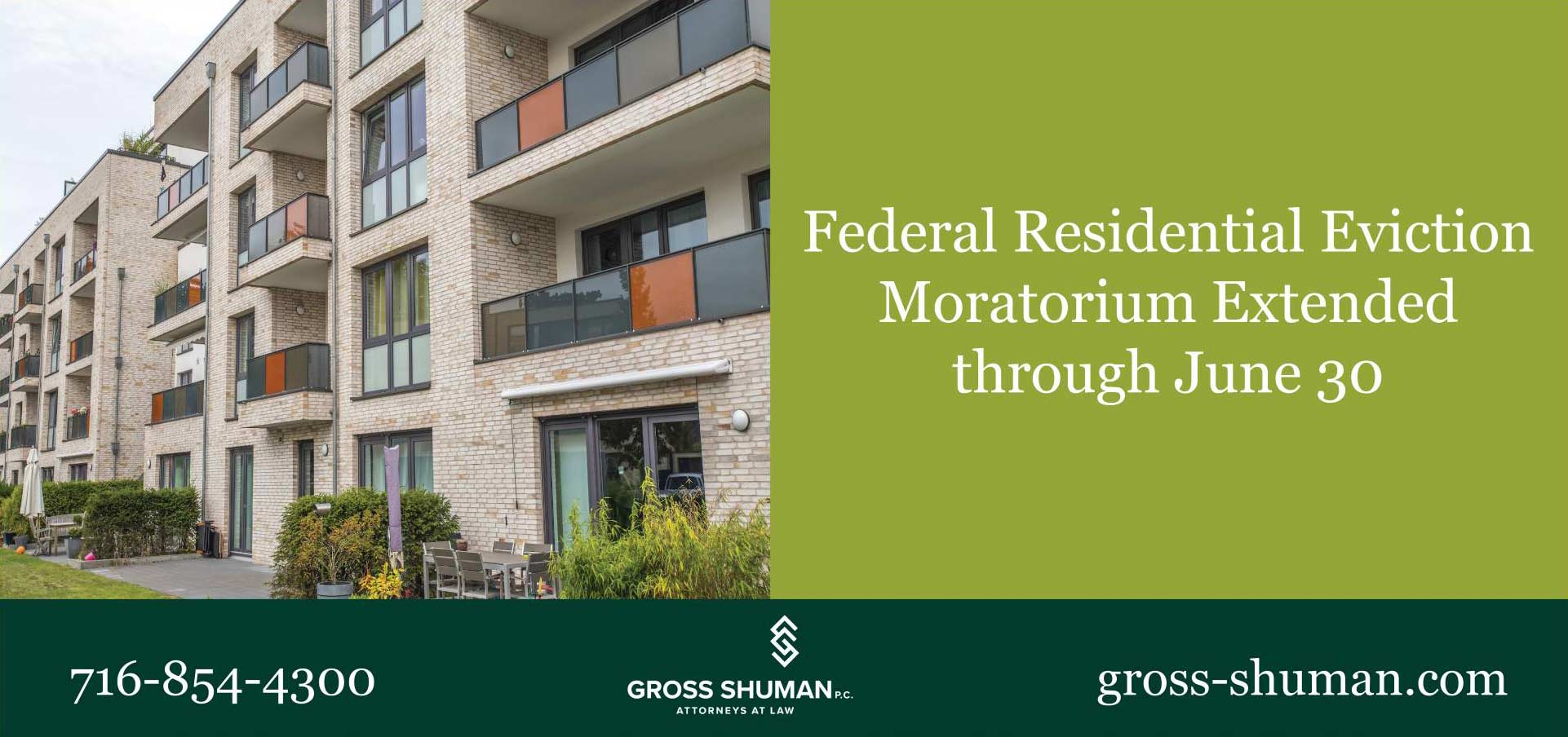 The protection, which was set to expire on March 31, has been extended through June 30, 2021
On Monday, March 29, roughly 48 hours before protections against evicting residential tenants for non-payment of rent were set to expire, the federal government announced an extension of the national eviction moratorium through June 30, 2021.
The move is being hailed as an important step in continuing to stem the tide of COVID-19 infections by eliminating the chance people are forced from their homes into crowded shared spaces like shelters.
Note: This is the federal eviction moratorium. Gov. Cuomo has yet to announce an extension of New York State's residential eviction moratorium, which is scheduled to expire on May 1, 2021.
How does this extension impact our clients (as well as all renters and landlords)?
Landlords: The extension means everything will remain in effect as it has been for months. If a tenant has claimed a rent hardship connected to COVID-19 and completed the required paperwork, they cannot be evicted for non-payment of rent during the moratorium. There are exceptions where evictions can be initiated for other reasons. We have covered that in a previous legal blog which you can review here.
Our advice to our landlord clients remains the same: stay in good communication with your tenants, work with them to obtain any rent you can, and make sure they are keeping the property in good working order while they are still tenants.
Renters: It is important to realize this extension is not automatically applied to all renters. You must complete the proper paperwork and attest (under penalty of perjury) that you have suffered a financial hardship directly related to the pandemic that has left you unable to meet your rent obligation. You will find the paperwork here.
Also, as mentioned above, it does not guarantee you will not be evicted. A landlord may seek a hearing to begin eviction proceedings for reasons other than non-payment of rent. As we advise our landlord clients, we also advise our tenants to be proactive in communicating with your landlord. Shutting down communication will only compound any existing challenges.
It is also important to remember that this is a rent moratorium. As of today, once the moratorium ends, all back rent owed will still be owed. This is a pause of paying rent, not a forgiveness.
As always, the Real Estate team at Gross Shuman P.C. is here to answer any questions you may have regarding your rights and responsibilities as a landlord or as a tenant. Call today: 716-854-4300.
To read the full statement from the CDC regarding today's extension, click here.