Featured News - Current News - Archived News - News Categories
Gross Shuman's Nick Ingrassia Hosts Commercial Real Estate CLE
Fri, Mar 26th 2021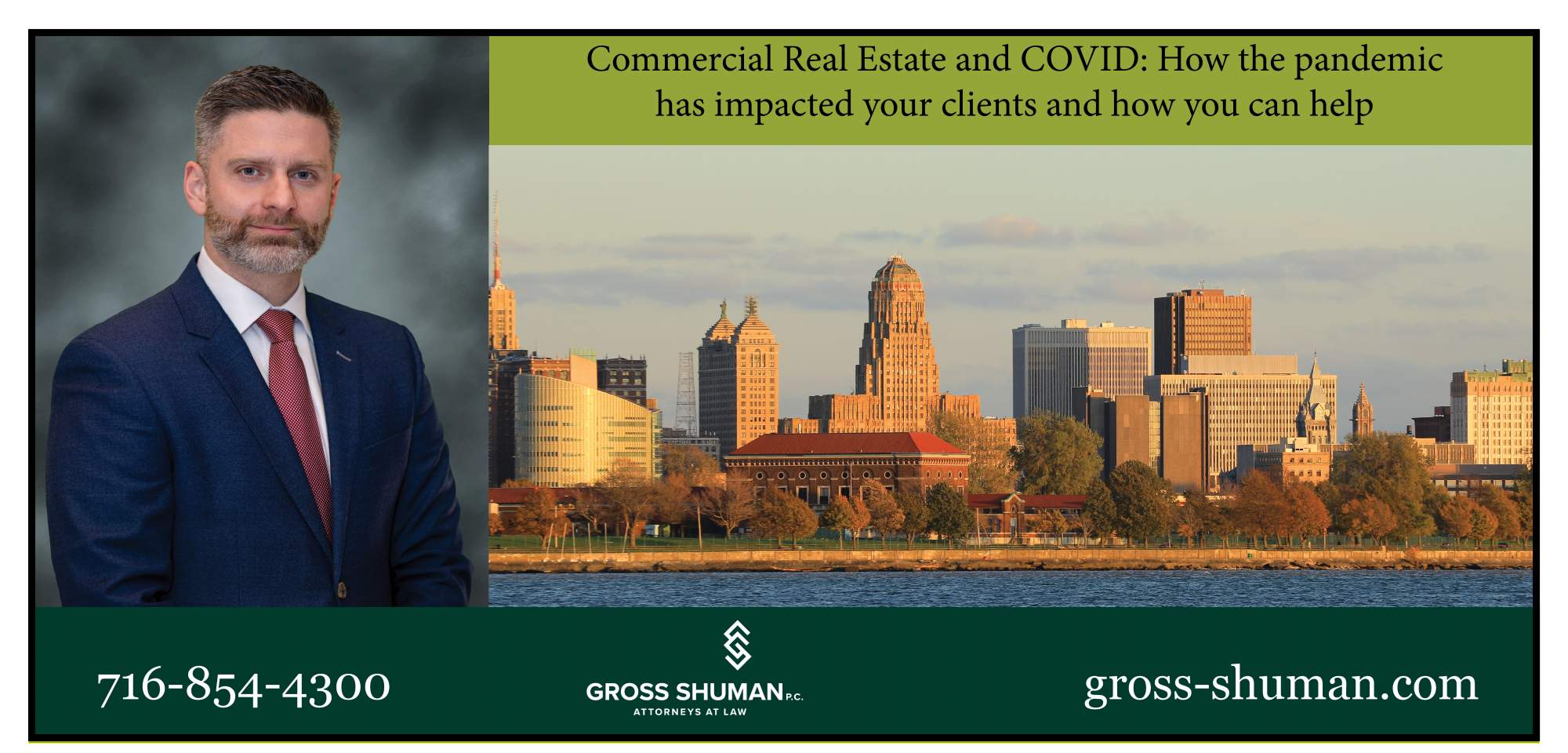 On March 24, Gross Shuman P.C. attorney Nick Ingrassia hosted a CLE on Commercial Real Estate in the wake of the COVID-19 pandemic. The hour-long presentation covered a wide-range of topics of interest to landlords, tenants and investors. If you were unable to attend the CLE, we are happy to share a summary of the key topics Mr. Ingrassia covered.
Current trends in commercial real estate
There is no doubt that the commercial real estate landscape will look considerably different than it did pre-pandemic. There has been a lot of talk about the shrinking need for office space given that large numbers of employees are now working from home. While those numbers will certainly adjust, there are studies suggesting that the hit to commercial office space may not be as drastic as initially predicted. Still, clients that hold a large amount of office space in their portfolio will want to be prepared with a contingency plan.
Recovery speed will vary widely by industry. For example, hospitality may be slower to return to pre-pandemic numbers. Hotels and conference centers that rely on tourists will take longer to see huge numbers of people comfortable with traveling. Likewise, many annual events that take place in the summer have already been cancelled for 2021. It is an indication that even with millions of New Yorkers being vaccinated, there is a cautious approach being taken to returning to normal.
Retail is another important sector to consider. The reality is, many retail operations were forced to shutter their doors last year, and of those, thousands will never reopen. What does that mean for the commercial landlord? It is time to get creative and consider reimagining your space. What you do with that space will depend on many factors, including size, location, and demand in your market, but if commercial landlords don't get creative, there is the potential to be a glut of empty storefronts in communities across the country.
Landlord/tenant dynamics
This month, New York passed S471A/A3207, the New York State COVID-19 Emergency Protect Our Small Businesses Act of 2021.
The Act is the companion law covering commercial tenants and mortgagors to the COVID-19 Emergency Eviction and Foreclosure Prevention Act of 2020.
The intent is for the act to cover small businesses with up to 100 employees and any business with up to 500 employees that was closed to "in-person operations by executive order or department of health directive for two or more weeks between May 15, 2020 and May 1, 2021."
The other important issue is related to the eviction moratorium currently in place. Landlords have been in a difficult spot. Mr. Ingrassia emphasized the importance of landlords not engaging in self-help tactics in response to tenants who are behind in rent. Changing locks, turning off heat, electricity or water, moving tenant's possessions, or refusing to repair a critical item on the property are all prohibited tactics. Landlords found to be engaging in such tactics can face costly litigation and even potential criminal charges.
Additionally, under the current rules, no commercial tenant shall be removed from possession prior to May 1, 2021, except by an eviction proceeding. This already applied to residential tenants in New York.
It is also important to know that any eviction proceeding pending on the effective date of the Act (which was signed into law March 9) or commenced within thirty days of the effective date of the Act, is stayed for at least 60 days. Whether or not an eviction warrant or judgment of possession has been issued, if the tenant provides a hardship declaration, the eviction proceeding shall be stayed until at least May 1, 2021. The rules for what qualifies for a hardship declaration are very broad, so many tenants will likely qualify.
Force Majeure
There has been a lot of talk about force majeure coming into play when it comes to commercial leases and COVID-19. The truth is, the courts have varied in their rulings on cases utilizing force majeure. That being said, there are a few things to consider:
Force majeure clauses are limited in scope
Performance should only be excused upon the occurrence of a specific event beyond a party's control
Parties will generally be excused based on a force majeure event only if the event that justifies nonperformance is specifically identified in the contract
The impact of COVID-19 on CRE investors
The sky is not (completely) falling. Despite reports to the contrary, office, industrial and multifamily properties are at about 90 percent in rent collection. Things are notably more difficult on the retail side, with collections dipping to between 20-40 percent.
So much is yet to be determined. Will there be some form of mortgage relief for commercial owners? If so, who will qualify, how will that be determined, and when might relief come? These are just a few of the issues hanging over the heads of commercial investors. Mr. Ingrassia advises clients to not rely on any form of government assistance until it is set in stone. Build contingency plans and seek creative alternatives to collect rent, maintain your properties and weather the storm.
What the future may bring
Mr. Ingrassia closed his CLE presentation with a number of bullets predicting what the future post-COVID might look like. They included:
Retail space will have to be repurposed and reimagined
Office space will also need to be reconfigured to meet the needs of a post-COVID workforce
Warehouse/industrial space will remain strong
Rent forgiveness of some kind (large or small) may come, but landlords can still expect to take a hit overall
Keep up to speed and best prepared to move swiftly to meet the changing landscape of commercial real estate